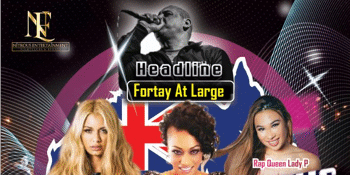 Nitrous Entertainment Presents
The Best of Aussie Rap and Dance Music
Fortay At Large + Havana Brown + Emily Williams + Lady P + MORE!
Eatons Hill Hotel - Grand Ballroom (Eatons Hill, QLD)
Saturday, 28 May 2022 6:00 pm
The Best of Aussie Rap & Dance music

Fortay At Large
Havana Brown
Emily Williams
Lady P
MRVZ
T Bi$h
Corrupt Consortium

Headline
Fortay is one of Australian hip-hop's best-known MCs. He's now been in the game for a decade, and in that time, has dropped an insane 16 albums and mixtapes, the most recent of which is 2021's The Re-Mixtape. His tracks have been streamed and downloaded millions upon millions of times, with the most popular including 'Come Smoke with Me', 'Meriton', and 'Faded'. For many outside of Australia, he is the first rapper from down under they ever hear — and what an introduction!

Fortay and his "At Large Productions" brand are wildly popular on social media with hundreds of thousands of followers and subscribers across all the major social media platforms, including the likes of YouTube and Facebook. He has collaborated with a great number of other artists and producers, including Highzen Beats, Phat Dee Orries, That Kid Kearve, Redbak, and Kerser.

Fortay hails from the notoriously tough housing commissions in Western Sydney (the equivalent of the American projects or English council estates) but fought his way out with his words, working his way up through the underground rap battle scene that was happening in Sydney during the noughties. He prides himself on having worked his way up from the bottom through getting out and performing, networking, and connecting with his audience, growing his rep organically rather than through any social media trickery. He released his first album, Fortified, in 2011 and has never looked back, topping the iTunes charts and becoming one of Australian hip-hop's most respected names and brands.