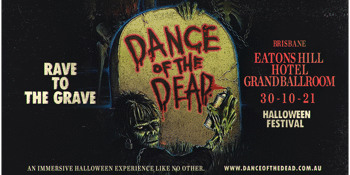 RIPPA
DANCE OF THE DEAD HALLOWEEN BRISBANE
Eatons Hill Hotel - Grand Ballroom (Eatons Hill, QLD)
Saturday, 30 October 2021 8:00 pm
Nominate your HALLOWEEN purge partner in crime to win a $200
voucher.
Dance of the Dead is an immersive Halloween experience like no other.
Get ready for, hair-raising Halloween attractions, blood-curdling visuals, free green fairy floss, and grisly theme drinks.
Outrageous Outfits, Ghastly Gowns, and Frightful Frocks are all encouraged.
Costumes deemed the most precious and tantalising will be rewarded by our minions generously!
$200 VOUCHER PRIZE FOR BEST COSTUME!
Combining the most exciting and diverse venue in QLD with Brisbane's premium decoration and event stylists.
Dance of the Dead will transform Eatons Hill Ballroom into a paranormal experience, dedicated to the ghosts and ghouls that haunt our nightmares!
You wouldn't be caught DEAD anywhere else!
Management reserves the right to banish the unruly.
18+ ID REQUIRED. NO REFUNDS.