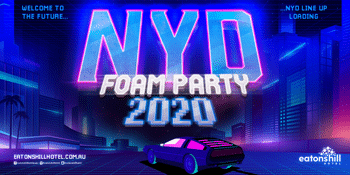 Eatons Hill Hotel Presents
New Years Day 2020
feat. UZ, Bonka, Bru-C, Cause n Affect, Example, Riot Ten, Sippy, Skepis, Slumberjack, Sullivan King, Tigerlily & Will Sparks
Eatons Hill Hotel - Outdoors (Eatons Hill, QLD)
Wednesday, 1 January 2020 12:00 pm
Eatons Hill Hotel announces stacked 1st release line-up for its annual New Year's Day Foam Party.
Eatons Hill has secured itself the biggest New Year's party in Queensland, welcoming 2020 with some of the biggest artists in EDM, Dance, and Drum & Bass. The dual stage event, catering to an annual 8,000 strong crowd, promises the ultimate summer dance soundtrack and a landmark event in staging and production. New Year's Day Foam Party takes place Wednesday 1st January 2020 at Eatons Hill Hotel.
Will Sparks, fresh from touring the EU Summer and Asia, will headline the Main Stage with his genre-defining playlist of Bounce, Dance and EDM. Coming in at #56 in the 2019 DJmag.com Top 100 the return of the Melbourne Bounce founder to a Brisbane main stage is not to be missed.
Emerging into the world of constantly evolving bass music back in 2012, UZ aka World Champion Turntablist DJ Toubl, will be co-headlining the event on the Drum & Bass stage as he unveils his rebrand for the first time in Australia including new mask, visuals and album.
UK's Example will be touring his latest project "Bangers & Ballads" as he returns to his creative roots which took him around the world with three top 10 albums, ten top 10 singles, arena tours and festival headlining slots. While local talent and crowd favourite Slumberjack return from the US to bring their dance heavy 2019 EP SARAWAK to Eatons Hill.
The Brisbane exclusive will see an array of national and international talent including; Bonka, Cause n Affect, Riot Ten, Sippy, Skepis Ft. MC Bru-C, Sullivan King, Tigerlily with more to be announced.
The 2020 New Year's Day Foam Party with its' largest line-up to date is currently offering tickets from an affordable $25+BF while promising even more production in staging, pyrotechnics, fireworks, lighting and sound.
Make sure you get amongst the action at New Year's Day Foam Party, 2020. This is an 18+ event.
New Year's Day Foam Party 1st Release Line-up
UZ
Bonka
Bru-C
Cause n Affect
Example
Riot Ten
Sippy
Skepis
Slumberjack
Sullivan King
Tigerlily
Will Sparks