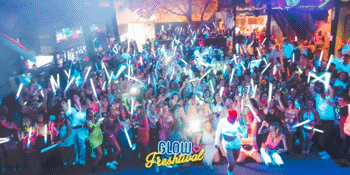 Glow Freshtival Brisbane
Eatons Hill Hotel - Grand Ballroom (Eatons Hill, QLD)
Saturday, 25 June 2022 8:00 pm
NOMINATE SOMEONE WHO LIGHTS UP YOUR LIFE FOR A CHANCE TO WIN A $100 PRIZE!
GLOW HARD OR GO HOME!
Glow Freshtival is here! Neon lights and glow sticks all night!
UV LIGHTS & DECOR
GLOW COCKTAILS
BEST UV REACTIVE OUTFIT WINS A PRIZE
NEON CONFETTI BLASTS
NEON BALLOON DROP
NEON BALLOON WALL PHOTOSHOOT
NEON LED PHOTOSHOOT
NEON BALL PIT
JUMPING CASTLE
DANCE PERFORMANCES
THROWBACKS, SINGALONGS & PARTY TUNES ALL NIGHT!
FREE STUFF:
GLOW BATONS
GLOWING ICE CUBES
GLOW STICK CREATION STATION
UV FACE & BODY PAINTING
NEON FAIRY FLOSS
ZOOPER DOOPERS
CHUPA CHUPS
BIRTHDAY PACKAGES AVAILABLE!
INBOX US IF YOU WANT FREE ENTRY FOR ALL OUR EVENTS!
FB.COM/SOFRESHTIVAL
LIVE UPDATES -
INSTAGRAM.COM/SOFRESHTIVAL
BRISBANE PHOTOS -
FB.COM/RIPPAPICS
STAFF WANTED - MULTIPLE ROLES AVAILABLE! DJS, Designers, Photographers, Instagrammers, Influencers, Videographers, Content creators, Door staff, Event hosting staff plus more! Inbox us if interested!
18+ photo ID required. No refunds.